Water treatment programs that work.
We've helped thousands of commercial, institutional, and industrial facilities across the U.S. lower operations costs, maximize uptime and improve their environmental sustainability.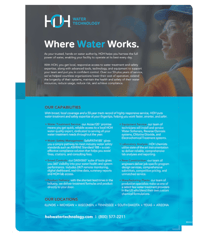 We can work with you to develop a customized water treatment program, and provide personalized service in any of these 5 program areas:
Cooling Water

Steam Boiler Systems

Closed Systems

Wastewater

Water Safety
Let us put a plan in place for you. Download our capabilities sheet to get started.