Re-Opening Shutdown Facilities During COVID-19
Do A Water Safety Check First!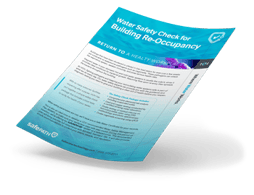 If there's stagnant water in your pipes or water features leftover from a COVID-19 shutdown or low-load period, your building might be at risk for waterborne pathogens like Legionella.

Our water safety experts can provide you with the guidance and diagnostic testing you need to give your building a clean bill of health before you reopen.
Our Safety Check Package includes:
Onsite testing
Lab analysis
Certification of completion